Neue Profi-Grafikkarte von ATI
Mit der FireGL X3-256 präsentiert ATi den Nachfolger der FireGL X2. Damit setzt ATi nun auch in der professionellen Grafiksparte auf den R420, welcher auf der neuen Karte gegenüber dem altgedienten R360, der auf der FireGL X2 Platz fand, für bis zu 30 Prozent mehr Leistung sorgen soll.
Die FireGL X3 setzt weiterhin auf AGP. Für PCI Express gibt es derweil noch andere Modelle, beispielsweise die Fire GL V5100 und V7100, welche die derzeit schnellste angekündigte Variante (R423 - Radeon X800 XT-Chip, 16 Piplines) sein dürfte.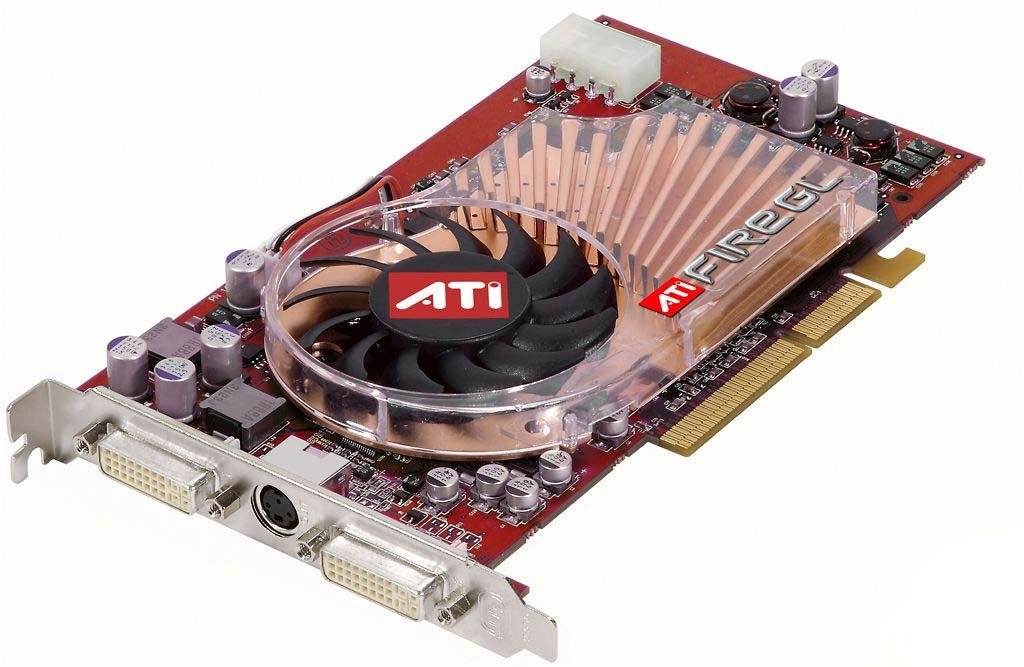 Im Grunde genommen besitzt die FireGL X3 die ursprünglichen Spezifikationen der Radeon X800. Dies fängt bei 256 MB GDDR3-Speicher an, geht über die 12 Pixel-Piplines und hört bei den Taktfrequenzen für den Chip und den Speicher auf. Im Gegensatz zur Radeon X800 Pro verfügt die FireGL X3 aber über zwei DVI-Ausgänge und durch den sogenannten "Dual Link Support" kann man entweder zwei hochauflösende Displays anschließen, oder sogar auf ein Display mit 9 Megapixeln setzen. Die FireGL X3-256 soll ab Ende August für 1099 US-Dollar erhältlich sein. Dieser Betrag versteht sich hierbei noch ohne Steuern.

Pressemitteilung zur Vorstellung der FireGL X3-256
ATI"s FireGL X3-256 Workstation Graphics Accelerator Brings High End Functionality and
Increased Performance to Mid-Range Price Point


New Graphics Powerhouse Brings Next Generation Features to AGP Install Base

MARKHAM, ON - ATI Technologies Inc. (TSX: ATY, NASDAQ: ATYT) continues to innovate for the large AGP market with the new FireGL X3-256 workstation graphics accelerator, which gives users an impressive list of professional features at an MSRP of $1099 USD. This new Visual Processing Unit (VPU) enables users to create complex visual effects and designs for customers working in Digital Content Creation (DCC), Computer-Assisted-Design (CAD), Pre-Visualization and Geographic-Information-Systems (GIS) and delivers a 30% increase in performance over the previous generation of FireGL products.

Expanding on the FireGL family of workstation graphics accelerators, the FireGL X3-256 gives users high-end features such as dual DVI connectors for multi-display applications, dual link support for 9 megapixel displays, stereo 3D capabilities with quad-buffered support, 12 pixel pipelines, six geometry engines, increased sub-pixel precision and 256MB of GDDR3 memory. Rich with these new features, the FireGL X3-256 enables users to work effectively with all the leading 3D applications, such as 3DSMax, Catia, Maya, Softimage|XSI and SolidWorks, while taking full advantage of the software"s capabilities.

"SOFTIMAGE|XSI users welcome the FireGL X3-256"s powerful graphics flexibility for developing complex 3D models and animations while maintaining superior image quality with a wide variety of visual configurations," said Alan Waxenberg, Business Development Manager, Softimage Co., a subsidiary of Avid Technology, Inc.. "ATI"s workstation team works closely with SOFTIMAGE to ensure that the level of integration between hardware and software continues to meet the needs of today"s advanced 3D users."

"With ATI"s FireGL Workstation graphics accelerators, SolidWorks users are able to visualize fully shaded rendered models in real-time thanks to the RealView feature," said Antony Hervo, Hardware Partner Manager, SolidWorks Corp. "The new FireGL X3-256 continues to deliver on this commitment to enhancing the production pipeline for SolidWorks users with an abundance of new features of great benefit in CAD and Visualization work."

"ATI"s FireGL products continue to carve out an important place for themselves in the competitive workstation market with the new FireGL X3-256," said Dr. Jon Peddie, President, Jon Peddie Research, Tiburon CA. "An impressive list of features with an unbeatable price-performance ratio balances the needs of users well, while enhancing the current offerings of the FireGL family of products."

"By building on the feature set of our previous high-end offering, the FireGL X3-256 continues to reflect the industry"s desire for high quality performance to drive the most demanding 3D applications, at a reasonable price," said Dinesh Sharma, Director, Workstation Products, ATI. "By focusing on the needs of professionals working in 3D and working closely with our ISV partners, the FireGL X3-256 gives users the performance and reliability that they demand in a workstation graphics accelerator."

The FireGL X3-256 will be available late August through Workstation OEMs, Workstation System Integrators and Value Added Resellers. The FireGL X3-256 joins the existing AGP products in the FireGL family including the FireGL X2-256t, the entry-level FireGL T2-128 and the MOBILITY FireGL T2 processor for mobile workstations. Complementing the AGP line-up, the FireGL Visualization series includes the FireGL V3100, FireGL V3200, FireGL V5100 and FireGL V7100 for PCI Express, which have been selected by over a dozen industry leading OEMs and Workstation System Integrators for their new PCI Express based systems.

ATI"s FireGL products are supported by a unified driver, which is tested and certified by professional 3D ISV partners, making system administration and upgrades cost effective and simple. All FireGL products come with a three year warranty and unlimited direct access to a dedicated workstation technical support team.