Shader Model 3.0 im Test: Das kann die GeForce 6800 in Far Cry 1.2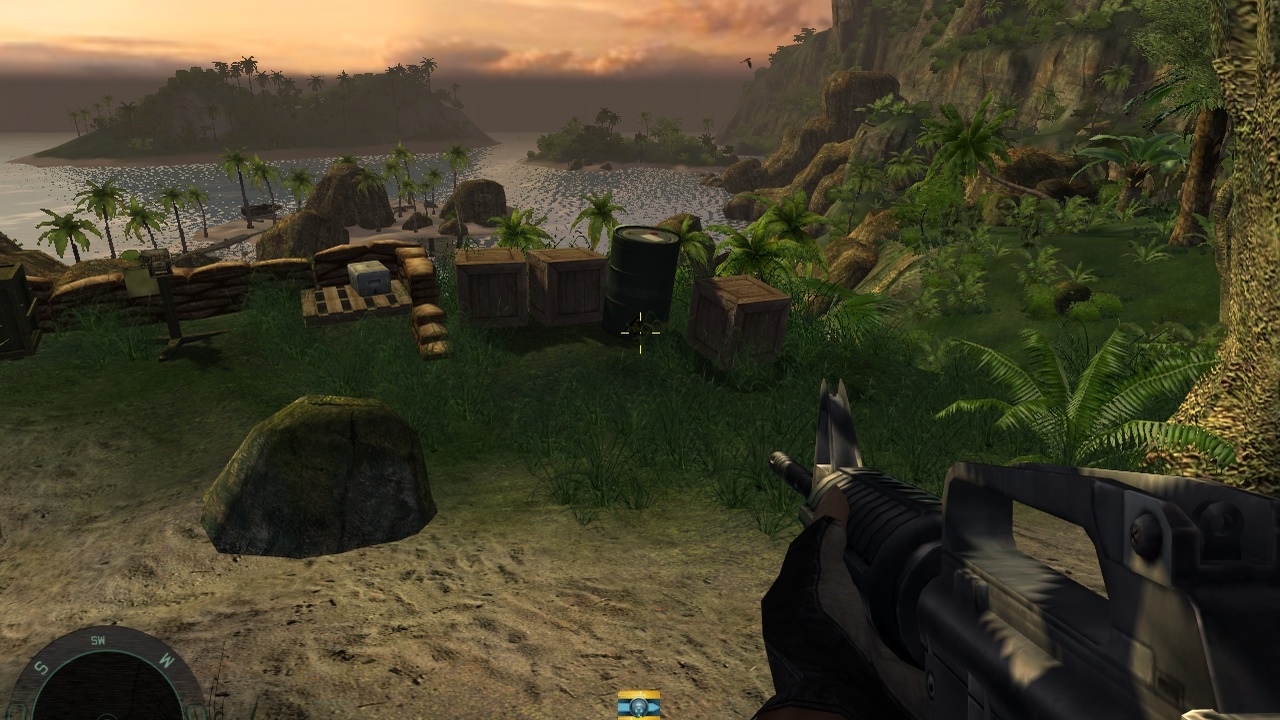 Vorwort
Für die Presse wurde er schon veröffentlicht, für die breite Masse ist er aber nachwievor in nicht allzu weiter Ferne. Es geht um den Patch zu Far Cry mit der Versionsnummer 1.2, der dem Spiel ein sehr interessantes Feature hinzufügt. Explizit geht es dabei um die Unterstützung des Shader-Models 3.0, das zurzeit nur die Grafikkarten der GeForce 6800-Serie aus dem Hause nVidia beherrschen. Bevor wir uns den Ergebnissen des Vergleiches zwischen SM 2.0 und 3.0 widmen, wollen wir einmal etwas genauer auf die allgemeinen Änderungen des Patches eingehen.
Changelog Far Cry Patch 1.2 Build 1318
Changelog:


Made the run speed about 15% faster
Made sprint last 30% longer
Adjusted damage to vehicles

(vehicles now survive longer in multiplayer and behave consistently between weapon damage types) Bullet damage can be disabled by "g_vehicleBulletDamage" cvar: 0 = no bullet damage (default), 1 = bullet damage; this works only in MP.

MP vehicles can get the same damage from every kind of bullet (no distinction between sniper rifle and the deagle), this value is set by 'dmgBulletMP' variable inside 'DamageParams' table of the vehicle.

buggy, humvee and gunboat can be destroyed with one rocket.
bigtruck can be destroyed with three rockets.
buggy and gunboat can be destroyed with 100 bullets (if g_vehicleBulletDamage = 1)
humvee can be destroyed with 150 bullets (if g_vehicleBulletDamage = 1)
bigtruck can be destroyed with 500 bullets (if g_vehicleBulletDamage = 1)
vehicle damage code cleaned and made more consistent.


Fixed a number of serious issues with headshot detection
Ported a number of sensitive routines into non SDK sources
Fixed some issues with ladder animations appearing odd to other players
Added quicksave support for single player (still in process)
Fixed bug where players name tag didn't show up
Fixed bug where console would accept letters as variable states
Fixed a number of ladder related issues
Fixed error with warning message in connection dialogue
Fixed a significant number of bugs relating to quicksave (~100 bugs)
Fixed a connection dialogue error
Fixed an incorrectly localized HUD message
Fixed bug with server shutdown dialogue error
Addressed a number of issues with the server list UI
Fixed bug causing cancel button to stop working
Server create sessions are now saved
Fixed a bug causing game freezes when player joins and player rotates
Fixed a rendering issue with Radeon 9600 graphics cards
Fixed Punkbuster crash when switching from punkbuster online server to hosting LAN server
Fixed issue with punkbuster icon not showing up in the server listing
Fixed random crash relating to punkbuster server listing info
Fixed issue with punkbuster refusing connection to a server that is destroyed and then re-hosted
Fixed a number of crash problems related to punkbuster server creation with non-dedicated servers
Fixed issue with punkbuster enabled in multiple server profiles


Disabled e_vegetation_min_size in multiplayer (used as cheat)
Added optimizations for character effects including invulnerability shader
Added optimizations for scoreboard performance. Scoreboard no longer updates fields that have not changed
Fixed issue where radar would not be drawn correctly with certain game type changes
Fixed framerate issue when player touched assault ammo pickups
Fixed issue with password protected servers not removing password after restart
Fixed issue with spectators not being able to hear ambient sounds
Fixed message printout for multiplayer statistics (was only working with log_verbosity 1, not it works with 0 (default) as well)
Fixed listplayer on the client (was only working on the server)
Changed multiplayer scoreboard system for less bandwidth and easier extendibility
Fixed bug in scoreboard that reported ping incorrectly by a factor of 2. Pings now appear correctly (half the old values). Note: ping is still the same, the output value was inaccurate)
Fixed check in server/client version check (now you cannot connect to servers with old network code)
Fixed bug in submitted Punkbuster ID causing random CD Key hash to be generated. Global ID unique to CD keys is now parsed correctly.
Added MultiplayerUtils:OnChatMessage a script function which is called on the server for every chat message (to enable saving out chats)
Made several changes to improve network packet scheduling
Separated multiplayer and single player weapon code better functionality with mod developers and support for changes to MP balance without affecting single player.
Made a number of changes to multiplayer weapon parameters, outlined below:


All weapons - Increase accuracy while standing still by 25%
Made the medic packs give 50% more health for the engineer class
Reduced rocket launcher clip to 1, no change to lethality.
Increased MP5 damage by 30% with full auto, 50% increase with semi-automatic
Adjusted AG36 damage to head and torso.
Reduced AG36 grenade radius.
Increased OICW accuracy by 30% when zoomed.
Reduced OICW grenade clip to 3 with max carry of 3 in the gun and 3 in reserve
Increased Pancor damage slightly
Reduced P90 damage by 10% and reduced max range by 25%
Increased lethality of mounted weapons.


Improved detection code for player name tags, fixed issue causing name tags not to appear if crosshair was on arms and legs
Fixed collision detection on the dedicated server with different arm position because of different weapons. Hit detection is now more accurate.
The record console variable was makred as protected because it opened up some cheat posibilities
Fixed a bug that sometimes caused players hit by a buggy not to credit the driver with a kill
Fixed a number of issues with discrepancies between player cameras in 1st and 3rd person
So war die uns zur Verfügung gestellte Version knapp 59 MB groß. Die gute Nachricht ist, dass die Entwickler von Far Cry endlich wieder eine akzeptable Bildqualität für Besitzer von nVidia-Karten realisieren. Mit dem Patch auf Version 1.1 schraubte man diese noch signifikant herunter, um das Spiel auf Grafikkarten der NV3x-Generation besser spielbar zu machen. Zwar konnte man so wirklich die Geschwindigkeit auf "shaderlahmen" nVidia-Karten verbessern, allerdings litt - wie bereits erwähnt - die Renderqualität schwer unter diesen Maßnahmen. Mit dem neuen Patch begibt man sich nun wieder auf den rechten Weg, Besitzer von NV3x-Karten müssen sich allerdings auf Performanceinbußen gefasst machen, die die Geschwindigkeitsverhältnisse in etwa auf die der Version 1.0 zurückversetzen. Zur besseren Darstellung haben wir die unterschiedlichen Patch-Versionen durch Screenshots untereinander verglichen. Anbei auch ein Screenshot, der auf einer Radeon 9800 XT aufgenommen wurde. Alle entstanden in einer Auflösung von 1280x1024 Pixel mit vierfachem Anti-Aliasing und achtfacher anisotroper Filterung.
Bildqualität Far Cry 1.1 vs. 1.2

Far Cry 1.2 NV40 SM 3.0

Far Cry 1.2 NV40 SM 2.0

Far Cry 1.1 NV40 SM 2.0

Far Cry 1.2 R360 SM 2.0

Far Cry 1.1 R360 SM 2.0
Die Version 1.1 von Far Cry fabrizierte an manchen Stellen Bildfehler, wie wir sie auch auf einem Screenshot beobachten können. Diese verschwinden jedoch, sobald man sich etwas vom Fleck bewegt. Da wir aber nicht plötzlich einen anderen Bildausschnitt präsentieren wollten, tolerierten wir die Bildfehler zähneknirschend.
Zusätzlich wollen wir nochmals anhand zweier Ausschnitte aus den obigen Screenshots auf die Qualität der Schatten in Far Cry eingehen. So lässt sich beobachten, dass ATi-Karten (linkes/oberes Bild) - in diesem Falle eine Radeon 9800 XT - weitaus weichere Schatten zeichnet, als dies die GeForce 6800 Ultra (rechtes/unteres Bild) mit dem von uns verwendeten Treiber 61.45 (SM 3) tut. Wir hoffen, dass dieser Bug entweder im nächsten ForceWare-Treiber oder bis zum finalen Release des Patches behoben wird. Durch die verbesserte Darstellung der Schatten dürften auch keinerlei Performanceverluste eintreten, kann die Cry-Engine diese doch ohne große Anstrengungen rendern. Beide Screenshots entstanden bei vierfachem Anti-Aliasing und achtfachem anisotropem Filter.
In der Version 1.2 von Far Cry integrierten die Entwickler ebenfalls endlich ordentliche Bezeichnungen für die verschiedenen Modi des Anti-Aliasings und der anisotropen Filterung. Konnte man zuvor beim AA noch aus den Stufen "niedrig", "mittel" und "hoch" wählen, stehen nun mit den Modi "2s AA" und "4s AA" zwei weitaus anschaulichere zur Verfügung. Beim anisotropen Filter kann man nun zwischen 1, 2, 4 sowie 8 wählen.
Auf der nächsten Seite: Was ist Shader 3.0?