AMD Athlon 3000G im Test: Athlon 3000G im Benchmark: Es ist ein "Athlon 240 GE v2"
2/2
Weil der Athlon 3000G im Kern dem Athlon 240GE extrem nahe steht und CPUs mit 16, 18, 24 und 32 Kernen dieser Tage ebenfalls Hochkonjunktur haben, hat ComputerBase auf einen umfangreichen Benchmark-Durchlauf verzichtet und verweist dafür auf den Test von Athlon 200GE, 220GE, 240GE aus dem Januar.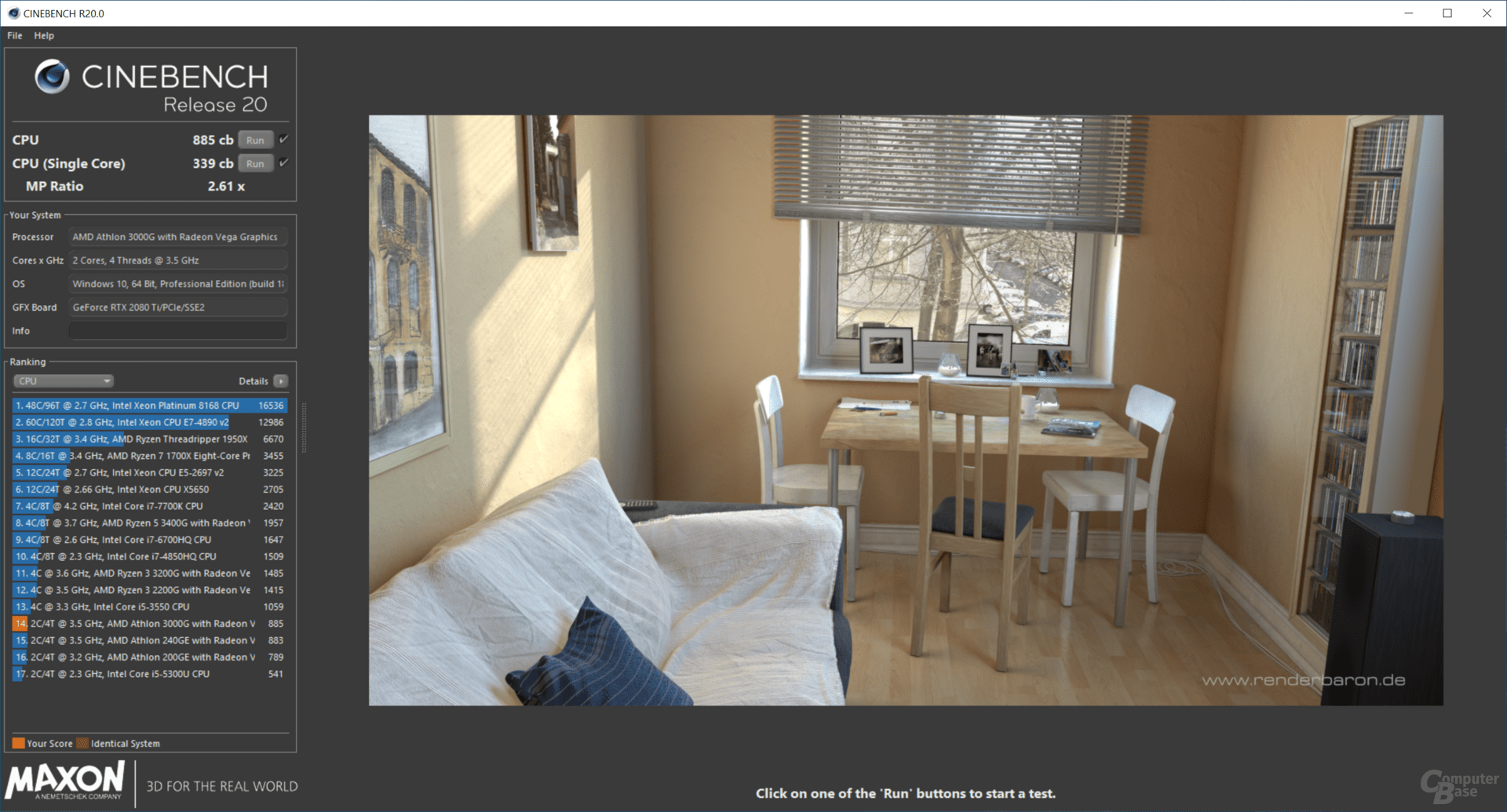 In Anwendungen ein erwartetes Bild
In Anwendungen duelliert sich der Athlon 3000G mit dem Vorgänger Athlon 240GE und dem Pentium von Intel. Das Leistungsniveau ist niedrig. Wer mehr getestete CPUs im Diagramm einblendet, findet deutlich schnellere Prozessoren wie den Ryzen 3 3200G (Test), der ebenfalls noch unter 100 Euro liegt. Vor allem im unteren Marktsegment bis zur kleinen Mittelklasse gibt es schnell sehr deutliche Performance-Sprünge für wenige Euro. Relativ betrachtet sind die Zuschläge gegenüber dem neuen Athlon für 53 Euro allerdings hoch, sein Preis-Leistungs-Verhältnis ist stark.
Gaming nur als absolute Notlösung
Gaming ist mit einem Dual-Core-Prozessor heutzutage kaum mehr möglich, viele Triple-A-Spiele sind auf dieser Basis unspielbar, einige starten gar nicht mehr. Auf einen vollständigen Parcours hat die Redaktion deshalb verzichtet.
Zwei exemplarisch herangezogene Spiele zeigen vor allem bei den Frametimes, dass zwei statt vier Kerne anno 2019 oft zu wenig sind. Dabei wurde das Testsystem mit GeForce RTX 2080 Ti wie immer genutzt, zum Vergleich der ebenfalls schon langsame Ryzen 3 mit vier Kernen herangezogen.
| Frametimes in FPS (1080p) | AMD Ryzen 3 3200G | AMD Athlon 3000G |
| --- | --- | --- |
| Shadow of the Tomb Raider | 37,3 FPS | 20,1 FPS |
| Assassin's Creed Odyssey | 36,1 FPS | 21,3 FPS |
Auch in älteren oder Casual-Titeln ist mit der Vega3 nicht viel zu gewinnen – obwohl sie noch deutlich stärker als Intels HD 620 ist, die wirklich nur für die Darstellung im Betriebssystem sowie die Videowiedergabe taugt. Schon der Vorsprung von Vega8 der richtigen Ryzen-APUs ist deutlich, auch weil es eben doppelt so viele CPU-Kerne gibt. Dass der neue Athlon jetzt offiziell 100 MHz mehr GPU-Takt bietet, macht da keinen Unterschied.
Leistungsrating integr. Grafik
AMD Ryzen 3 (Vega8)

AMD Athlon (Vega3)

Intel Pentium (HD 620)
Einheit: Prozent
Die Leistungsaufnahme überzeugt
Wird die diskrete Grafikkarte entfernt, bleibt die Anwendungsleistung identisch, die Leistungsaufnahme sinkt wie erwartet. Auch hier zeigt der neue Athlon, dass er quasi ein alter ist – auch Intels Pentium spielt im selben Gewässer.
Leistungsaufnahme der AMD Athlon (komplettes System)
| Modell | Leerlauf | 1-Kern-Last | Volllast |
| --- | --- | --- | --- |
| AMD Athlon 3000GE (3,5 GHz) | 20 Watt | 35 Watt | 50 Watt |
| AMD Athlon 240GE (3,5 GHz) | 19 Watt | 34 Watt | 46 Watt |
| AMD Athlon 200GE (3,2 GHz) | 20 Watt | 32 Watt | 45 Watt |
| Intel Pentium G5400 | 17 Watt | 31 Watt | 41 Watt |
Fazit und Empfehlung
Auch der "neue" AMD Athlon 3000G gefällt, weil die vom Athlon 240GE gezeigte Leistung ab sofort noch mal günstiger geboten wird. Für 53 Euro UVP gibt es quasi keinen Konkurrenten, der inklusive frei bestimmbarem Multiplikator mehr bietet. So entsteht aus der Perspektive Preis und Leistung ein Produkt, das seinesgleichen sucht. Intels ewiger Gegenspieler, der Pentium, hat dagegen keine echte Chance.
Mithalten können da höchstens noch die Vorgänger AMD Athlon 200GE, 220GE und 240GE (Test), denn die liefern quasi dasselbe zum – je nach Modell – noch mal attraktiveren Preis-Leistungs-Verhältnis. Lange geben wird es sie aber mit Sicherheit nicht mehr.
Einen Bogen machen sollten um die CPU in jedem Fall Spieler – auch die, die geringere Ansprüche haben. Die Zeiten für Dual-Core-CPUs in Gaming-Systemen sind gezählt. Auch in Kombination mit einer Mittelklasse-GPU kommt beim Athlon 3000G so nur selten Freude auf.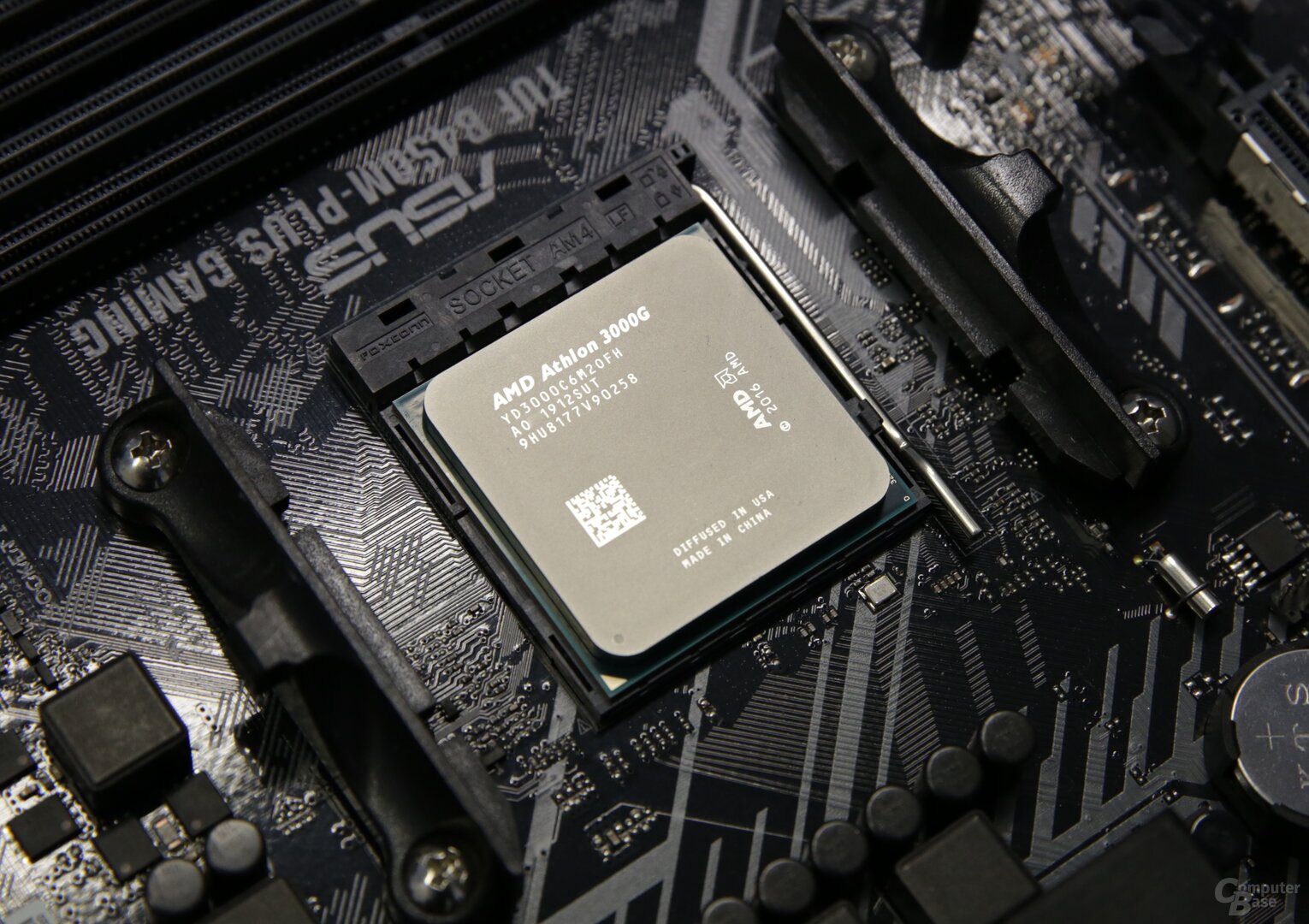 Fortschritt beim Athlon mit Zen(+) gibt es so Ende 2019 nur beim Preis, technische Innovationen bleiben im Vergleich zu Ryzen 3000 und Ryzen Threadripper 3000 aus. Doch es darf auf ein echtes neues APU-Produkt im kommenden Jahr gehofft werden. Die Lücke zu den Matisse-Prozessoren ist nun nicht nur auf Seite des Preises riesig, auch die Leistung der APUs hängt mittlerweile weit zurück. Renoir verspricht dies zu werden, nicht nur für Ryzen, sondern am unteren Ende auch für Athlon. Mit einem ähnlichen Sprung wie zuletzt bei den Prozessoren würden die APUs in ganz neue Leistungswelten vordringen können. Und das ist vor allem im Notebook wichtig, denn dort liegt Intels größter Umsatz, den AMD noch nicht mal angekratzt hat.
ComputerBase hat den Athlon 3000G von AMD zum Testen erhalten. Eine Einflussnahme des Herstellers auf den Testbericht fand nicht statt. Die einzige Vorgabe war der frühestmögliche Veröffentlichungszeitpunkt.
Dieser Artikel war interessant, hilfreich oder beides? Die Redaktion freut sich über jede Unterstützung durch ComputerBase Pro und deaktivierte Werbeblocker. Mehr zum Thema Anzeigen auf ComputerBase.